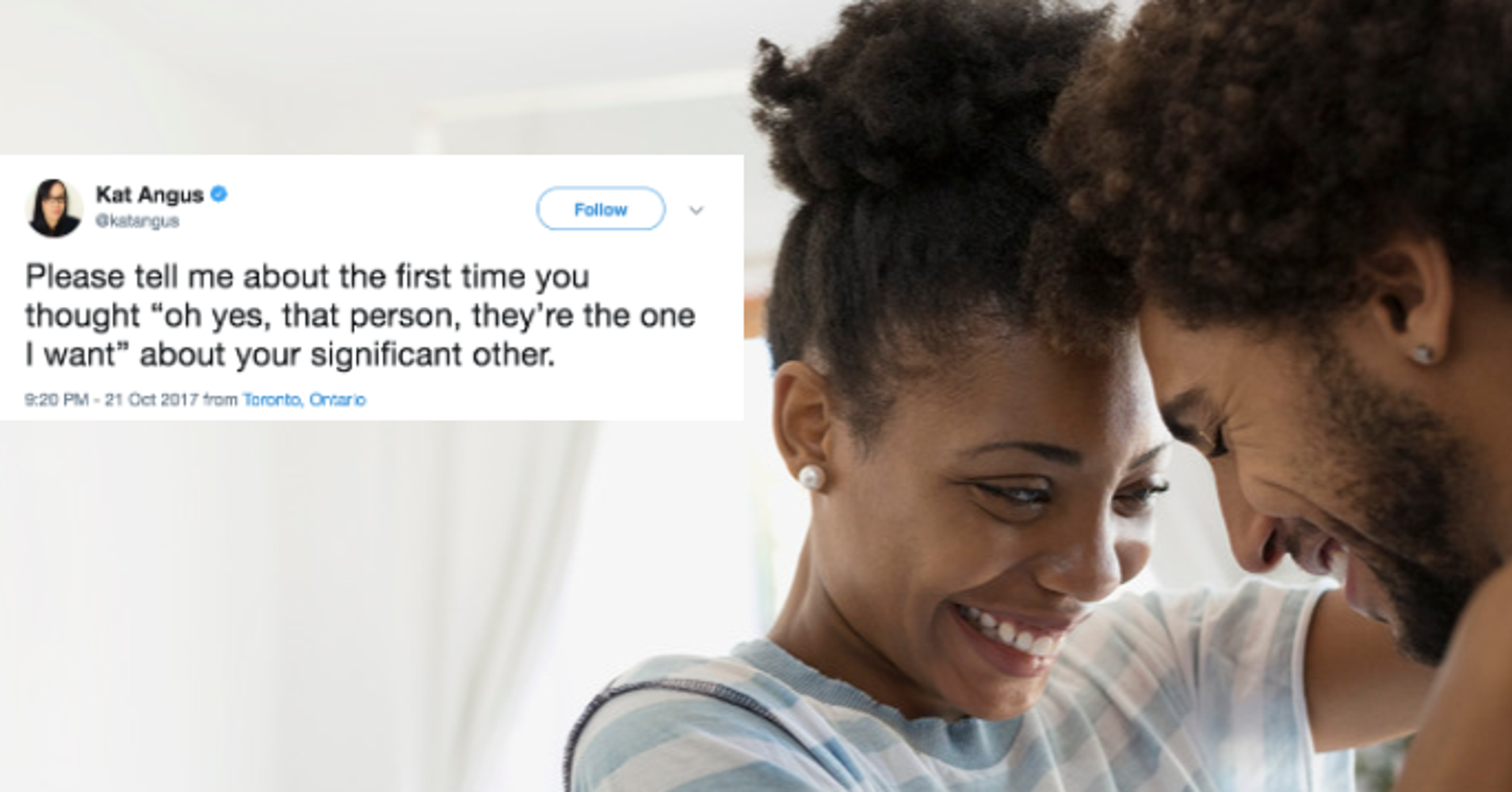 Everyone loves a good love story, especially in 140 characters or less. 
Kat Angus, a Toronto-based staff writer for Buzzfeed, asked her Twitter followers on Saturday to recall the sweet moment they knew their current partner was the one they wanted to be with. 
Please tell me about the first time you thought "oh yes, that person, they're the one I want" about your significant other.

— Kat Angus (@katangus) October 22, 2017
The writer also shared her own story of when she knew her significant other was the one (and it had a bit of a twist): 
Oh and mine: 1.5 years before we dated, I saw him do comedy and he performed a great bit about "former and latter" and I was like "yep, him"

— Kat Angus (@katangus) October 22, 2017
(Awkwardly my boyfriend at the time was the one who took me to the comedy show)

— Kat Angus (@katangus) October 22, 2017
Her tweets quickly went viral and the responses started pouring in. We're not crying, you are! 
I tried to break up with him when I was diagnosed with cancer. He showed up with flowers and french fries and said he wasn't going anywhere.

— Nicole Theodore (@nctheodore) October 22, 2017
I was going to be in his town for the day. He hadn't slept the night before. He still came to meet me because it was important to him.

— Hannah Ramsey (@LeFrenchBanana) October 22, 2017
Like 3 1/2 years ago I remember sitting on his kitchen floor with our backs together laughing at something only funny to us and thinking ya, I'd like to do this forever. https://t.co/GQCC1OoFf6

— leah (@leahbiggar) October 22, 2017
On our first date to the park he was just as excited as I was about a squirrel taking a whole piece of bread! 3 years going on forever pic.twitter.com/EfPKvSviFX

— ghost with the most (@Avacadogirrrl) October 22, 2017
when he just held me & cried after I told him all of the bad things that have happened to me. we cried together & he became my safe place. https://t.co/xFjw3zO6PO

— claire (@clairehwalker) October 22, 2017
on 2nd date, looking for something in her purse she started handing me things to hold…including a bottle of glue & a bag of googly eyes https://t.co/sizi7Qi9U4

— Seth D. Monic 🌲 (@sethdmichaels) October 22, 2017
Date 5 when he introduced me to his friends. Watching him lead a conversation w/o overpowering others and being super funny was everything.

— Diana McCallum (@WordsOfDiana) October 22, 2017
We had been out a few times, and one day he spent 30 minutes or so showing me pics of his niece. We're married with a baby of our own now. ❤ https://t.co/AV91Akfj4M

— Carly LeSpooky (@motheroftheses) October 22, 2017
When we were walking back from a movie, he offered me his jacket and told me to ignore the saxophone mouthpiece in his pocket

— Amanda BW (@amandawysocki) October 22, 2017
Our 3rd date, jays game. Home run; I stand up, my foot right into his chipotle dip. He held my ankle just so, cleaning it off. Game over.

— Amberly McAteer (@amberlym) October 22, 2017
So cliche- I saw him from afar, sat down next to him. When he looked into my eyes and smiled-I knew. 7yrs and everyday feels like that 1st

— Christina Kim (@TheChristinaKim) October 23, 2017
She mentioned that she was writing a fanfic with the characters of Watchmen in the universe of Garth Marenghi's Darkplace. Irresistible!

— schroduck🚊🛰🍛⏳🇪🇺 (@schroduck) October 22, 2017
Irresistible, indeed. More of these Twitter moments, please!