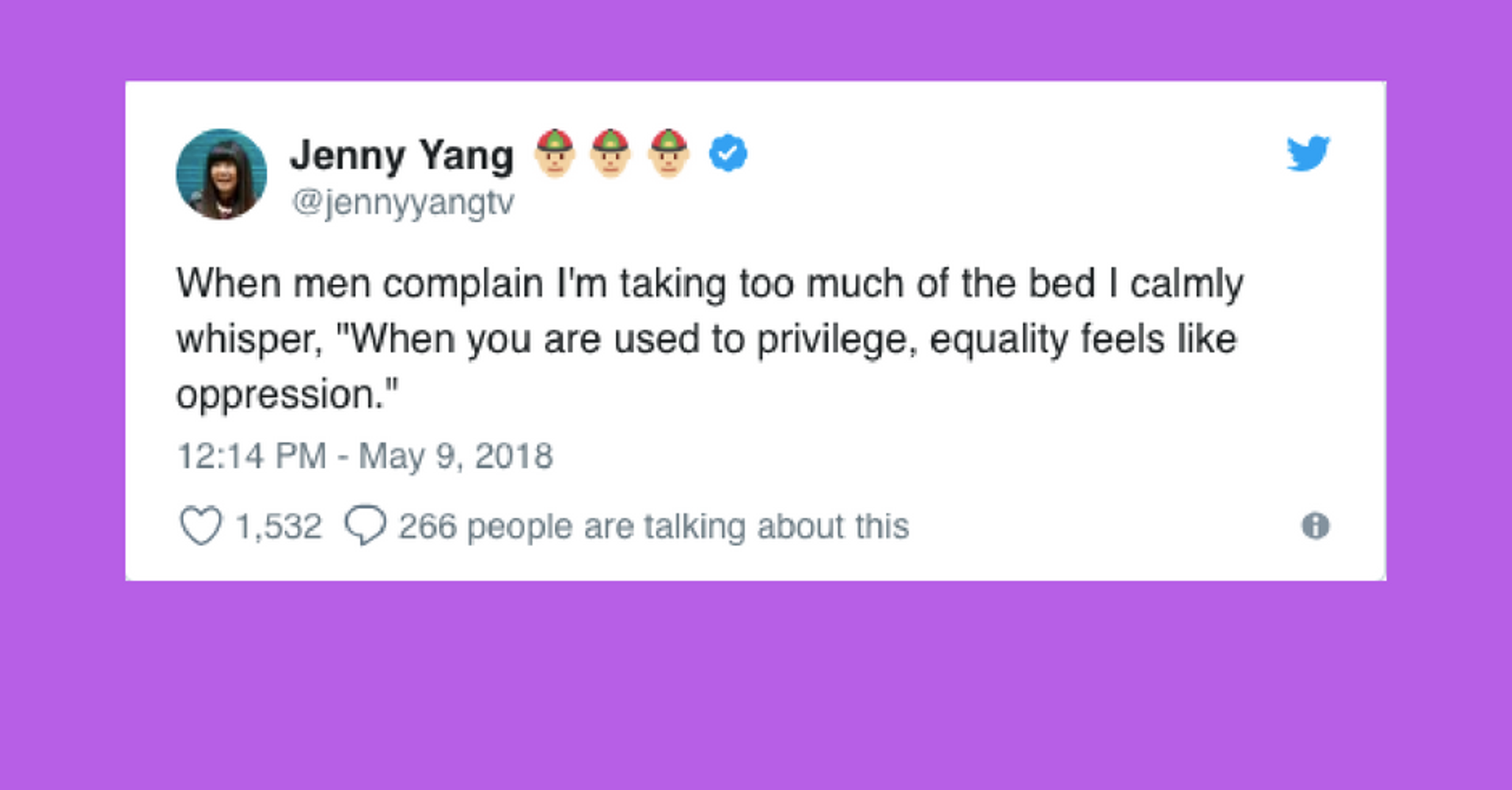 The ladies of Twitter never fail to brighten our days with their brilliant ― but succinct ― wisdom.
Each week, HuffPost Women rounds up hilarious 280-character musings. This week, we're bringing you a special edition, honoring the fierce and funny women of Asian descent on the interwebs for May's Asian Pacific American Heritage Month.
To see this week's great tweets from women, scroll through the list below. Then visit our Funniest Tweets From Women page for our past collections.
When men complain I'm taking too much of the bed I calmly whisper, "When you are used to privilege, equality feels like oppression."

— Jenny Yang 👲🏼👲🏼👲🏼 (@jennyyangtv) May 9, 2018
On a scale of Kanye to Donald Glover, how are you feeling today?

— Aparna Nancherla (@aparnapkin) May 7, 2018
Whoever said "don't bite off more than you can chew" has never been to a buffet with my family

— Atsuko Okatsuka (@AtsukoComedy) May 4, 2018
Ramadan begins next week, and I'd like to preempt all questions about what the most challenging part of the month is for Muslims: Eagerly biting into a samosa after a 15-hour fast and realizing it's stuffed with potato, not meat. 💔

— Sarah Khan (@BySarahKhan) May 10, 2018
O Lord, grant me the confidence of a mediocre wm who listens to an author speak for an hour about her life and then feels the need to attempt to shame her into not fitting into the falsely informed vision of whom he expects her to be

— Lisa Ko (@iamlisako) May 10, 2018
White people, I would take your "offense" at POCs appropriating your culture seriously when you didn't spend the last 500 years trying to colonize every single corner of the globe

— Diep Tran 🤦🏻‍♀️ (@diepthought) May 8, 2018
i think it's really rad that multiple tv shows have done a storyline where they think their muslim neighbor is a terrorist!!!!! it's funny and fresh and smart!!!!!!! i've never been outside

— broti gupta (@BrotiGupta) May 9, 2018
Whenever I'm hungry and out for the day and I don't have any food in my purse, I think of Sam and Frodo and how they survived on their one piece of lembas bread and still fought a spider, mountain climbed, etc

— Jenny Han (@jennyhan) May 8, 2018
I wonder if customs agents practice being rude in the mirror.

— Lilly Singh (@IISuperwomanII) May 8, 2018
It's official, I'm going to be one of those people whose hip acts up before it rains.

— Lea Salonga (@MsLeaSalonga) May 8, 2018
The combination of "Be" and "Best" just hurts my brain. It's like doge speak but way less cute.

— Celeste Ng (@pronounced_ing) May 7, 2018
My backpack got pulled aside and checked by the TSA. After discovering the questionable shape was just a beautiful crystal, the woman gave my bag back and said "I don't wanna ruin your flow." LOVE U GURL

— Charlene deGuzman (@charstarlene) May 10, 2018
what's it like living in NYC? every day I wake up in Times Square inside an M&M costume. i watch a barista at starbucks (local cafe) do latte art of the words "cuomo's MTA!!" & walk around in a panic until i learn my rent has gone up. I can't afford my M&M anymore. i do comedy,

— Karen Chee (@karencheee) May 10, 2018
It is a beautiful night to walk home tipsy in New York City and that is precisely what I'm doing

— Mindy Kaling (@mindykaling) May 9, 2018
Follow HuffPost Asian Voices on Twitter here.