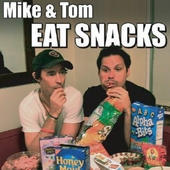 Unlike some of the snacks they choose, sample, and review, the hosts of Mike And Tom Eat Snacks (MATES), Michael Ian Black and Tom Cavanagh apparently try not to overwhelm the ears of their listeners. We know this because they drop their episodes very sporadically — the last one was half a year ago.
But just when you think these guys are out of the snack game for good (perhaps too busy with their various TV show and movie commitments), they reappear with their witty, often nonsensical repartee, which unwinds for long, enjoyable minutes before they slowly peel back the wrapper to reveal each show's snack.
They're in rare form here in their 100th episode — a six month's rest seems to have recharged their batteries — and they make a big show of unveiling the snack chosen for this episode. (Long time listeners, or "maties", have heard them ruminating over the choice for months and months.)
If you want to be surprised, then read no further…
…it's the humble Oreo cookie.
Dig in for 43 minutes of two guys who know how to romance the hell out of a cookie.
• • •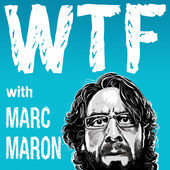 In the years he's been doing his podcast, WTF, host Marc Maron has talked to comedians, actors, celebrities, a sitting president, and a few icons. This week he dropped an icon on us in the form of Neil Young.
An unassuming yet amazing musician whose career has spanned five decades (and counting), he's renowned for a trademark voice and a musical style that, well, has always shifted solely at his whim and never in the direction the marketplace was expecting.
Young stops by the garage to mention his new album, Earth, but never hypes it at all.
Instead he's a gruffly affable, charming guest who has no qualms following Maron's interview lead wherever it goes — from his early days as a teen in Winnipeg, across Canada, and on down into the United States. And although this may be his adopted home, he makes it clear that if everything here slides sideways, he'd have no difficulty making the transition back up North.
Maron keeps touching on the creative process and inspiration with his guest, and it's interesting to hear Young talk about how he never knows when the muse for a song will strike but, when it does, he drops whatever he's doing for as long as it takes to get that latest sound out and into the world.
There's a lot more that goes on but we're talking about an icon, man! It's well worth checking it out for yourself.
• • •
Podcasts I'm also listening to this week: Oh No, Ross & Carrie — Ross & Carrie Audit Scientology (Pt. 9): Getting the Boot; and DredgeLand — Episode 1
• • •
The MATES, WTF reviews and other podcasts mentioned originally posted as part of This Week In Comedy Podcasts on Splitsider.com.
Marc Hershon is the host and executive producer of Succotash, The Comedy Podcast Podcast, featuring clips from comedy podcasts from across the Internet as well as interviews with podcasters, comedians, and assorted show biz folk.